Today I decided to try a brand new link-up, for me. I have seen this one on all your blogs and decided to link up this week as its all about my favourite topic... TV!
So here we are with Sunday Social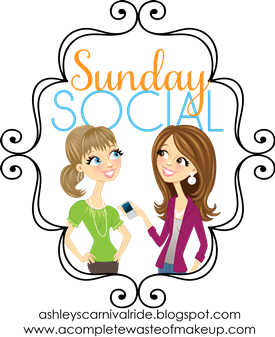 1. What is your favorite TV show of the past?
Hmmm I guess it depends how far in the past. I think Smallville counts, but if you want further back... Full House. LOVED Full House!
2. What is your current favorite TV show?
I would have to say Supernatural and Cougar Town. But there are so many other contenders... Pretty Little Liars, Vampire Diaries, True Blood, The Walking Dead, Hart of Dixie and on and on.
3. Which reality show would you NEVER do?
Fear Factor. As much as I love the show I just couldn't handle the surprises. You would have no idea what you would end up doing.
4. Which reality show would you LOVE to do?
The Glee Project haha, if only I could sing well enough. It just looks so fun and they all seem to make friends. Plus meeting the Glee cast. FUN
5. What is the TV personality/character that you feel is most like you?
Oooh I dunno :/ this is a hard one! I think maybe April Kepner from Grey's Anatomy. A little reserved but cheerful and likeable. Other than that I'm not sure?
6. Which TV character would you want to date?
This is a good one! I think its a tie at the moment (there are many others!) between Jeremy Gilbert from Vampire Diaries,
Wade
Kinsella from Hart of Dixie, and John Snow from Game of Thrones... yummy!
Woohoo! Well that was fun huh?
Have a great day!
xx