So I am exhausted after a long day of moving my worldly possessions from my flat to my mum's house, where I will be living until I head to Disney in August next year! My room is looking super cute, but still full of stuff that hasn't found a home yet. Its a work in progress.
So I am linking up Sunday Social, which I always find super fun!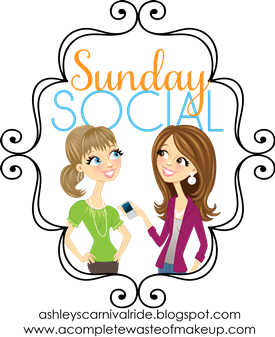 What is currently on your wish list?
Man what isn't! I am in desperate need for so many things! Mainly clothes, most of the clothes in my wardrobe I have had for many years and some of them are starting to fall apart. Its a sad sad thing. Also a job, definitely wishing for a job.
Share a new iPhone app you have recently discovered that we all need:
I am without an iPhone which makes me sad inside. Maybe one day soon
What is a new fall TV show you have added to your DVR?
I watch most of my new TV online seeing as New Zealand is wildly behind. My new favourites are Revolution and Arrow, but I am a sucker for my old favourites.
Share your social media links for us to follow you on & tell us which your fave and why:
Twitter
,
Pinterest
,
Facebook
and again, no iPhone so no Instagram :( But I love me some Twitter! I like stalking celebs, and interacting with the bloggy community, its just so much fun!
What is a TV series/movie/song you could watch or listen to over and over and never get tired of?
T.V Shows: Supernatural (always always always!!), The O.C, Gilmore Girls and Criminal Minds. Plus so many more! I am a huge re-watcher of shows I love!
Movies: All Harry Potters, and School of Rock, I know them both off by heart!
I'm off to re-watch Gilmore Girls for the
hundredth
time, then sleeeeeeep! Mmmm sleep.
xx