Awards season is my favourite. Being a major film buff I love to see which films are winning big, and which are falling short. Possibly my favourite part however, is the Red Carpet. Holy fashionistas dream... or nightmare in some cases.
Unfortunately I wasn't able to watch the Globes this year, they only play on certain channels in NZ and I don't have them. BUT I am always keen and willing to throw in my two cents fashion wise.
Here are my Hits and Misses of the 2013 Golden Globes!
I love the colour of Jennifer Lawrence's dress! The belt and the shape of the skirt show off her curves, and her hair and make-up go perfectly! My only issue is with the pointy Madonna style boobs. Amanda Seyfried's dress is so pretty I love it! I love the lace cut-outs and her hair and make-up is understated, allowing the delicate dress to shine. Kate Hudson wins the battle of the cut-outs! The black and gold combo works, and the high collar is awesome!
Jessica Alba has the perfect mermaid dress! I love the colour and her simple but fancy jewellery. Her hairstyle is very classic Hollywood! Some people weren't fans of Taylor Swifts dress, but I think it works for her. The colour is great, and so is the shape, plus it has an awesome back. Only the creases mark it down a little. How adorable is Kristen Bell and her baby bump! She dressed it perfectly in a pretty lilac with fancy beading with a high collar. LOVE it!
My last "hit" was Zooey Deschannel. She went 50's glam and I love it! The colour, the dress, the pearls... She is adorable! Nicole Richie heads up the first of my "misses" the dress would be ok if the collar was slightly different. But I cannot forgive the make-up! Too much blue eyeshadow, to matchy, its just bad! Ew. Thats all I can really say about Halle Berry's choice. I just, I don't know. It looks like someone threw up a bunch of newspapers on her after drinking too much wine. I really don't get why...
Olivia Munn almost got it, but not quite. The dress is just a little too shapeless and dull. Sienna Millar looks like she got attacked by silly string, this dress is hideous! I'm already not a fan of two piece dresses, but this one looks like it was made by a four year old. I would have liked Jessica Chastain's dress if it weren't for the complete lack of fitting. It makes her boobs sag down to her waist which is ridiculous! I do love the colour with her hair though.
I really love the colour of Marion Cotillard's dress, but its just too lop-sided. Maybe if the longer hem was on the other side, where the belt had no material draped over it, but I dunno. Plus ugly, ugly shoes! Lena Dunham picked a dress that is just way to old for her. Props to her for trying, but it doesn't fit her properly, the material is too thick, and it makes her head look tiny. I actually really like Sarah Hyland's dress, on anyone else it would have looked classy and sophisticated, but holy boobs. Way way way too old for her! And with the big hair and thick make-up, she just looks trampy. Sorry darling!
Now I am no fashionista, and I can only dream of wearing dresses like these. But I really don't understand what goes through these girls (or their stylists) minds when they choose to dress like this. Can they not see the dresses are hideous/ill-fitting/inappropriate? *sigh*
Until the next awards show ladies...
XOXO Gossip Girl oops I mean Sinead!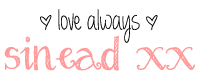 all images from here or here