Today I have a treat for you all.
By now you should all know that I love to read. Like a lot. All the time!
So when
Veronika
contacted me and asked me if I would like to review her book
Bohemia
, I jumped at the chance!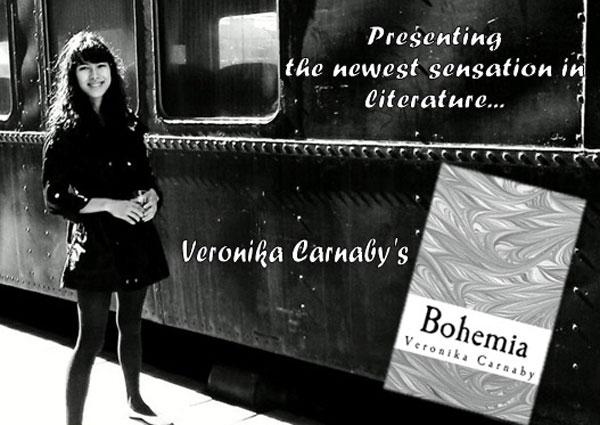 "In her debut novel, Veronika Carnaby picks up where the Beat Generation left off. Set in 1960, Bohemia chronicles a group of twenty-somethings who defy the "ideals" of a mid-twentieth century society to seek creative fulfillment. In the process, they spotlight the creative path that artists of all mediums tread, all the while depicting the challenges faced by youth in the decade that changed the world."
I really enjoyed reading Bohemia. It was very reminiscent of Jack Kerouac's On The Road which I loved! It follows the same style, following a group of young adults as they set out to discover the world and themselves. This is something that we can all easily relate to, which is what I think makes the novel so special. It allows us, as readers, to identify with the characters, and put ourselves into the narrative. For me in particular, being in my early 20's and trying to figure out how to start my life, I could totally see myself in their shoes, which for me is hugely important for me to enjoy reading something.
Obviously I am not familiar with the setting that is the 1960's, but the writing style and narrative really draw you in and make you feel immersed in the culture and freedom of the beat-nik generation. Everything Veronika writes is to draw you into a world she has created, the language, the slang, the way the characters act and interact; all come together to paint you a 60's, freedom inspired, restless picture of life.
My main criticism is that the writing style did make the narrative difficult to follow at times. If you aren't familiar with the beatnik style you might have trouble with this one. The pace and timing was a little rushed at times, and I would often get lost in a long description and find myself having to reread a page to remember where we were in the plot. Mostly during the first few chapters, towards the end I was hooked! I enjoyed being drawn into the novel so much and I think if this is the right book for you, you will love it! If not, give it a go anyway, you might be surprised!